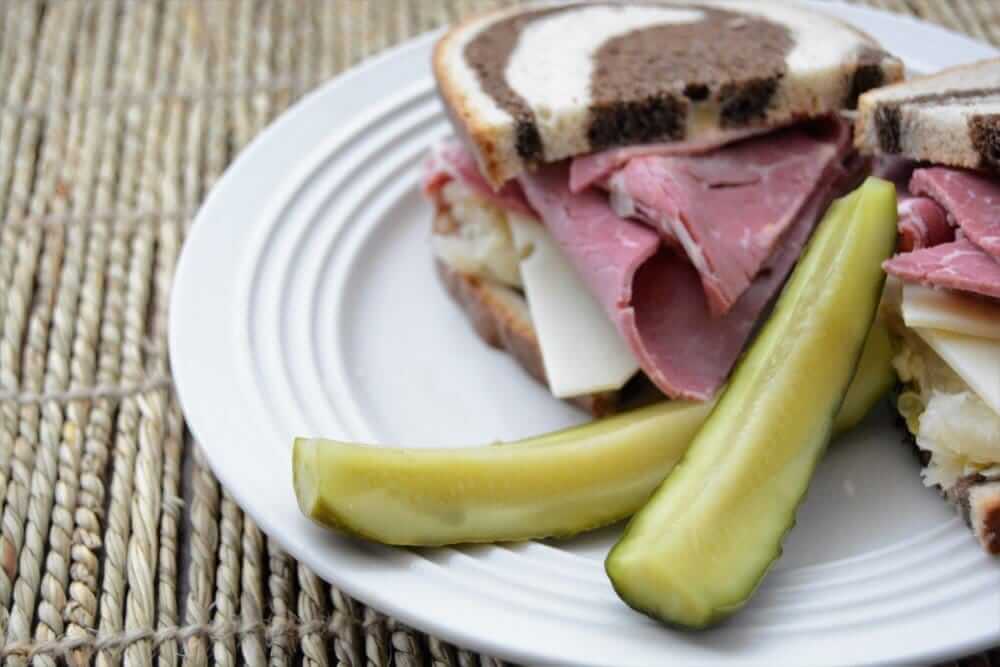 I'm not a fan of on the shelf pickles that are made with so much vinegar that it turns your face sour every time you take a bite. But I am a fan of those cold Claussen pickles (closely matching half-sour pickle recipes)) that give you just enough sour and a snap to enjoy them with every bite.
I can open a jar and put on the island for the family to munch on while I'm cooking and the entire jar will be gone by the time dinner is served. We LOVE cold pickles.
Finding a recipe to mock that Claussen recipe has been very trying, though. Most recipes refer to using vinegar, which I've come to realize is not the flavor I'm looking for in a good snacking pickle.
On the back of the Claussen jar it does list vinegar as an ingredient, but I had a sneaking suspicion that the amount of vinegar used was very, very low. I also feel that Claussen pickles aren't cooked, which is what helps them keep their crunch and why they have to stay refrigerated. So, after a few years of trial and error with different pickle recipes, I discovered half-sours.
What are Half-Sour Pickles?
Have you ever eaten at Ted's Montana Grill and tasted their yummy pre-meal pickle appetizers? They are a very close comparison to Claussen pickles, but are half-sours.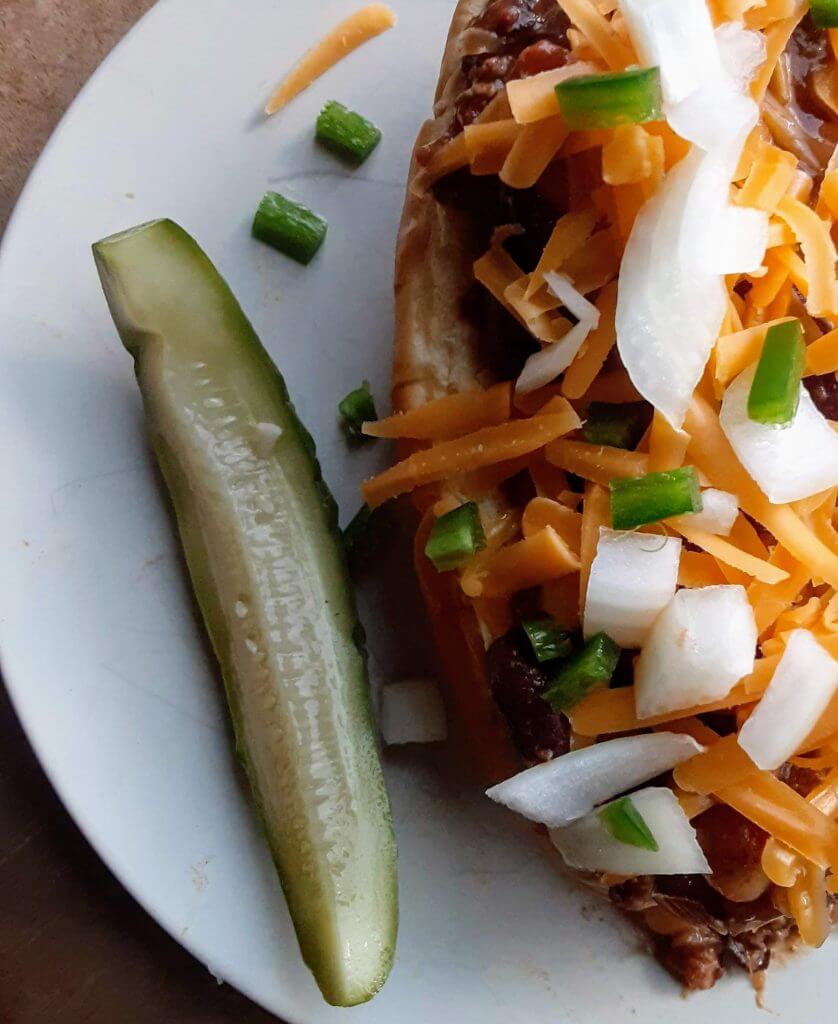 Half-sours are made without vinegar, and get their sour from mustard seeds, dill, and sea salt. When all of the ingredients are mixed together, you let them sit in the refrigerator for a week and they're done.
This method leaves the pickles crisp, bright green, and more cucumber-y tasting than the full-sour pickles most people are used to tasting.
Half-Sour Pickle Recipe Tips
This recipe is so easy to pull together even your kiddos will enjoy making them. It involves no cooking and comes together quickly.
If you like adding spice, feel free to throw in some fresh, bright red hot peppers to add heat and color. The peppers will also get pickled and be tasty to munch on along with your pickles.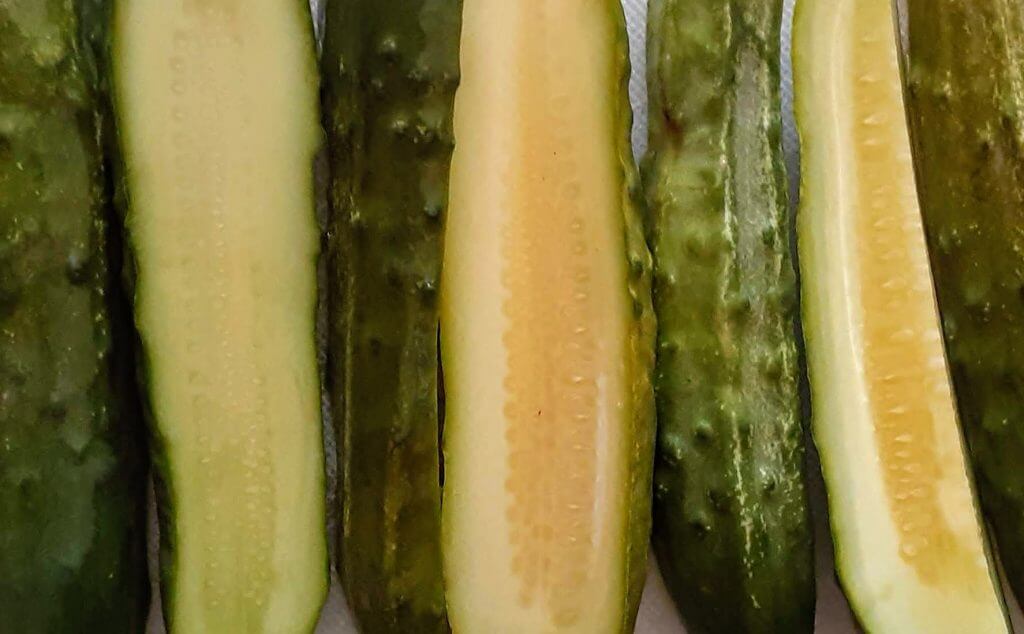 Watch the amount of garlic you use. I use garlic in almost every recipe I cook, but with this recipe (even on my plants in the garden to ward off bugs) the cucumbers really take on a strong garlic flavor if you use too much.
One time I didn't have all of the spices on hand, but I did have a bag of pickling spice that I use to make corned beef brisket and it was a great substitution.
Use a jar with a tight fitting lid so you can turn the jar every couple of days to mix the ingredients up without worrying about liquid spilling out.
The jar can be a big gallon sized jar or multiple pint sized jars. I prefer multiple pint sized jars because I can fit them better in my refrigerator.
Cut them any way you want – spears or chips – or don't, and leave them whole.
These homemade pickles keep well in the fridge for about six months, as long as they remain submerged in the brine.
Lay these out on the counter in a bowl for hungry snackers to munch on… it helps curb that "is dinner done yet" question.
Half-Sour Pickle Recipe
Ingredients
1/4

cup

Kosher Salt

1

tsp

Coriander Seeds

1

tsp

Mustard Seeds

1

tsp

Peppercorns

1

Bay Leaf

1

Fresh Dill Head

2

cloves

Garlic

Use 2 small garlic cloves or 1 big garlic clove - don't use too much garlic.

4

cups

Water

10-15

Kirby Cucumbers
Instructions
Split the salt, coriander seeds, mustard seeds, peppercorns, bay leaf, and fill head between two pint size mason jars. Or if you're using one big jar, throw all of those ingredients in one jar. Give the jar(s) a shake to mix the ingredients together.

Remove the skin from the garlic, chop the cloves, and add the garlic to the jar(s).

Cut the cucumbers the way you want - spears or chips - or leave them whole, and then add to the jar(s).

Top each jar with cold water. Seal jar(s) with lid(s) and give them a shake to mix up the ingredients.

Set jar(s) in refrigerator and let sit for at least a week to give them their full flavor. Every few days give the jar(s) a good shake and return to the refrigerator.
Notes
This half-sour pickle recipe will be good after a week and will last up to a month.