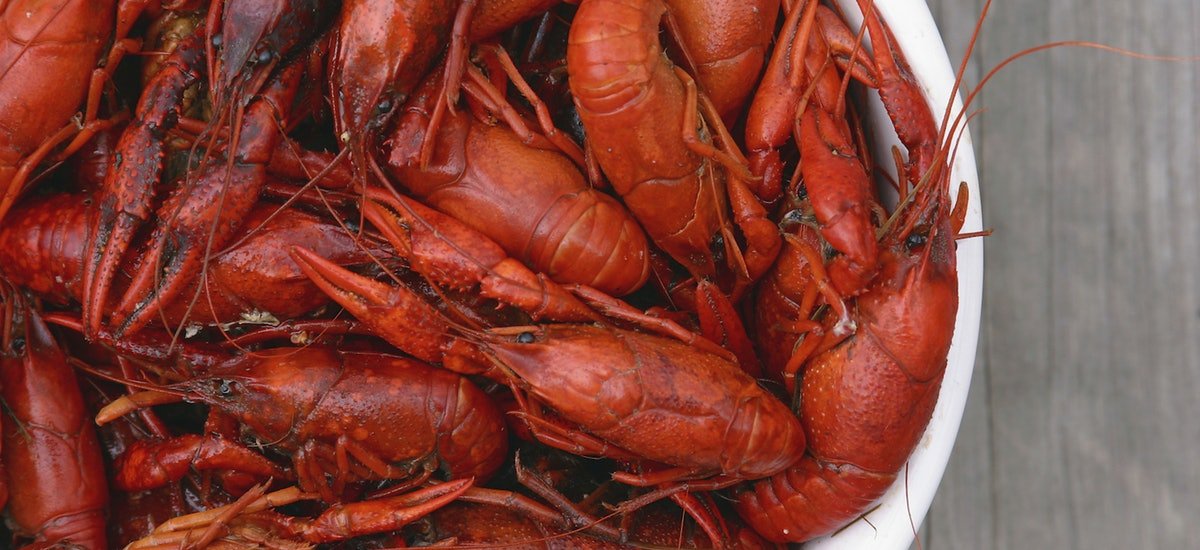 I talk about the south a lot on my blog when it comes to recipes, but it's hard not to channel my southern roots when it comes to cooking. When I met the hubby, his mother taught me a lot about northern recipes that I've never tasted; likewise, I taught the hubby and his family about a lot of southern recipes they've never tasted.
One of my husband's favorite, all-time southern recipes is crawfish. A crawfish boil does more than just satisfy your tastbuds and keep you coming back for more, but it brings friends and family together too.
I can't even remember the first time I shared crawfish with the hubby, but he's been hooked every since, and of course I can agree. I grew up eating crawfish at crawfish festivals in Louisiana.
Although, I grew up in Texas, I was close enough to the border, that my mom would take us over to Louisiana so we could enjoy a classic crawfish festival, which usually included 3 stages of live music, big 'ole turkey legs, and plenty of crawfish. The crawfish was usually spicy, which is likely why
I'm totally fine with spicy today, and the crawfish usually filled rows and rows of tables. It was more than delightful.
From a Texas girl, grown Colorado style, this is my favorite crawfish boil recipe – one of those recipes that my friends keep bugging me for and I'm more than happy to share. Through plenty of research, trial and error, and numerous crawfish boils, this, THIS, has become the best crawfish boil recipe for us.
How to Purge Crawfish
If you've never cooked crawfish before, you need to know beforehand that if you order them live – and you should – you'll have to purge them of waste. (If you get them pre-cooked, skip this step, you're good to go.)
The method of purging is washing them with cold, clean water, and then letting them soak in oxygenated water for a short period of time. This method helps the crawfish naturally excrete waste through their gills.
We were once told that if you can drink the water they sit in (after draining and refilling), then they're clean enough to eat… I am not drinking that water, I'll just trust they're clean. Another way to clean them is after they're cooked and you've pulled the tail off, twist the middle fin and tug – the majority of the time, the waste comes right out.
Some swear by salting them to cause them to excrete their waste, but according to crawfish experts and LSU studies, this is just an old wives tale.
My Southern cousin has two big buckets like these – one with holes to make a colander – that she uses to purge them. In this instance, you'd put the colander bucket into the solid bucket and run water through a water hose through the buckets. You can also easily drain the buckets of the dirty water, before once again rinsing again.
I love the bucket method, but since I don't have that amazing technique quite yet, we will either use a bucket or cooler or our bathtub. The last crawfish boil I did, we had 45 pounds of crawfish, so we used the bathtub. You have to remember that the crawfish are alive and don't breath exclusively underwater, so you don't want to drown them.
We usually place the crawfish in the bathtub and run cold shower water over the bags. Don't open the bags quite yet, or you'll be doing yourself more work. After running cold water over them, and turning the bags a couple of times, I'll fill the bathtub with cold water to cover the crawfish for about 10 minutes, and then drain the water. Once drained, rinse with cold water one more time, and we're ready to rock and roll.
Using a cooler – with the drain open so the water can run out – works great too!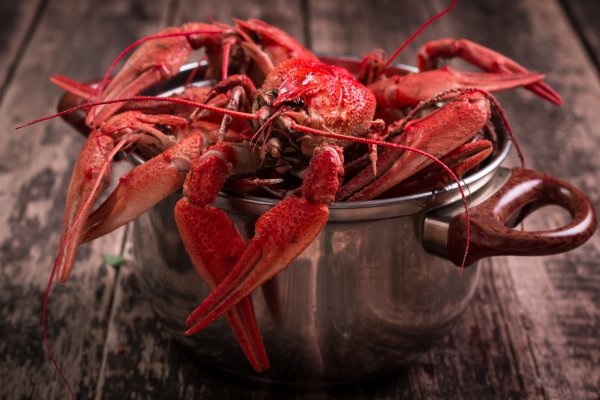 How to Eat Crawfish
If you wanna, you can just eat the tails and call it good, BUT I would tell you to at least try sucking the head at least once. It sounds odd, I know, but it's like a flavor shot.
You squeeze the head as you suck on the end that you tore the tail from, and a shot of flavor flows into your mouth. It's amazing and delicious, and is like taking a shot of vodka while eating caviar. If you can't handle sucking the head, we can be friends later – you really need to work up to it.
Crawfish is usually very spicy. So, if you don't like spice, perhaps crawfish isn't for you, but for one dinner – just one dinner – attempt (embrace) the spice.
Now that we've talked about the head, lets break it down on how to tear it apart and actually eat the meat. When you grab a whole crawfish, it's just like a mini lobster – you have the head, torso part and the tail. The tail has the meat and the head has the juice.
Typically, you'd tear the head apart from the tail, squeeze the head to get the juices, and then tackle the tail. Even though you did a good job of purging the crawfish, you can still easily get out the pooper. Spread the fin, take the middle fin, twist, and pull – usually, you'll get the entire pooper to pull out. If you don't get it to pull out, it's okay, you can still eat it, but you may get some grit.
Next, there's one of two things you'll do:
Some friends have luck just biting the meat out of the end of tail, pulling, and getting it all out clean, but for some reason, that doesn't work for me.
Crack the tail like you would a lobster or shrimp – break the belly inside from the middle, underneath where the feet are; break it away, pull out the meat, and eat. Redo, over, and over.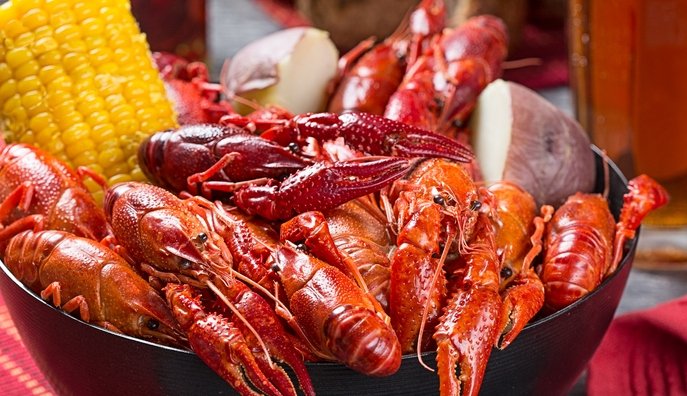 Crawfish Boil Additions
There are sooooo many things you can add into a crawfish boil, but below are a few of our favorites.
Sausage
Shrimp
Crab
Corn
Potatoes
Mushrooms
Artichokes
Asparagus
What am I missing? What are your favorites?'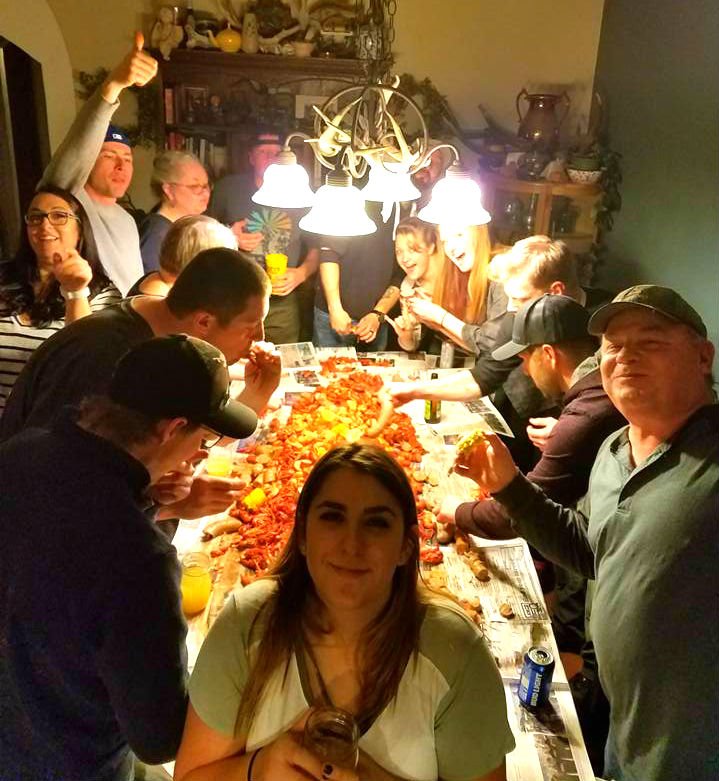 Crawfish in Colorado
Yes, we do have crawfish in Colorado. Most of the times, when you're looking at doing a boil, you'd order in from Louisiana your crawfish between the months of February-April, but you can actually catch Crawfish in the high-country of Colorado in the summer too, because our waters stay so cool.
When our kiddos were younger, we'd go to the docks on the weekends and catch a bucket full for dinner, or throw out a trap to make sure we had enough for dinner. In recent years, the hubby goes out and throws out traps and gets them the next day – usually loaded with crawfish.
Rules in Colorado say that if you capture crawfish, you HAVE to have a fishing license and separate the tail from the head at the water. They're considered invasive species, so the Division of Wildlife does NOT want them transported without being separated at the lake.
The unfortunate side of this is that you can't purge them and you often get that gritty, dirty flavor from them. BUT, look at my notes above about peeling that pooper by turning the middle fin – it definitely helps when it comes to crawfish you can't purge.
Let's Talk Dirty
When we're talking sucking head, eating tail, and the gritty, dirty, crawfish can be a bit of a funny conversation, which is exactly why I got my husband a t-shirt that says, "It ain't going to suck itself." I mean, come on, embrace the dirtiness!
Crawfish Tips
If they're alive, you can't soak them in water for too long. They do have gills and can breathe underwater, but they also breathe air.
When crawfish arrive – when ordered – they're likely dormant because of the cold packs surrounding them. This doesn't mean they're dead, it means they're dormant because of the cold.
When you order crawfish, you usually want to eat them the same day, but if you can't, keep them as cold as possible.
Don't eat crawfish with straight tails – straight tails mean they were dead before they were cooked. Only eat curled tails.
Mushy crawfish tails were also likely dead before being cooked – I'd recommend not eating it.
If you catch your crawfish live in Colorado, you have to separate the tail from the body the minute you pull it from the water – Colorado law.
You CAN NOT eat raw crawfish or their eggs. You can eat the eggs cooked, but not raw. There have been cases where people have come down with severe parasitic infection from eating RAW crawfish and crawfish eggs… don't do it my friend. Most foods eaten raw should be frozen first for at least 2 hours.
For some reason, people like to test the pinchers of crawfish and see how strong they are. They're strong and can make you bleed. They can snap a small stick in half, which means they can pinch off your man nipple. Crawfish pinching tests are at your own risk.
This post may have affiliate links, which means I may receive commissions if you choose to purchase through links I provide (at no extra cost to you). Thank you for supporting the work I put into this site!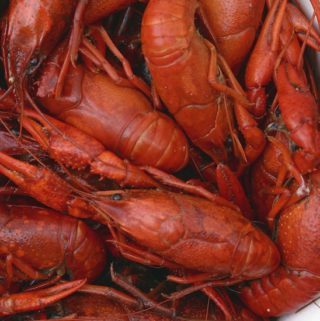 The Best Crawfish Boil Recipe
This recipe is for about 20 pounds of crawfish. When we have big crawfish boils, we'll usually have 3 pots going and use the same measurements below in each pot - for our pots, we ordered this:
King Kooker 1265BF3 Portable Propane Outdoor Deep Frying/Boiling Package with 2 Aluminum Pots
(which happens to be an Amazon best seller and a killer deal). We recently did a crawfish boil with sausage, potatoes, corn on the cob, shrimp, and crawfish. We had 45 pounds of crawfish, about 5 pounds of sausage, and roughly 6 pounds of shrimp, and that was enough to have a bit of leftovers the next day after feeding 30 people dinner. I can eat about 2 pounds of crawfish to myself and my husband can eat 8-10 pounds. The amount of crawfish you're group will eat will depend on the eaters - how much can they eat?
Ingredients
Crawfish Boil
2

Oranges

Sliced

1

Lemon

Sliced

2

Onions

Sliced, and keep skins to throw in pot as well.

2

heads

Garlic

Top part sliced off, and keep the skins to throw in the pot.

1

bag

Crawfish, Shrimp, and Crab Boil

This is a 3oz mix of seasonings and spices in a bag, including mustard seed, coriander seed, cayenne pepper, bay leaves, dill seed, and allspice.

1

jar

Concentrated Crawfish, Shrimp, and Crab Boil

This is a concentrated blend of essential oils that are perfect for a crawfish boil

1

stick

Margarine

2

tbls

Chicken Base

1

lb

Crawfish Boil Seasoning

This is a big bag of boil seasoning. You can get it on Amazon or at a specialty shop. We've tried a lot of different kinds, but really like Slap Ya Mama Cajun Seasoning Seafood Boil 1lb

Water

20

lbs

Crawfish

1

bag

Red Potatoes

3

Corn on the Cob

Split in half to make 6 pieces.

1

lb

Sausage

If it's precooked, you can go ahead and cut them up, but if they're fresh, keep them in their casings.

2

lb

Shrimp

Not precooked.

Tony Chachere's

Old Bay
Garlic Butter
1

stick

Margarine

1

head

Garlic

Minced

1

tbl

Cayenne

1

tbl

Lemon Pepper

1

tbl

Paprika

1

tbl

Chicken Base
Instructions
You'll want to work in a really large crawfish pot. The one I usually use is 30 quarts. Place in the pot your strainer - the larger pots usually come with one. Then add the oranges, lemon, onions, garlic, crawfish boil seasoning bag, concentrated crawfish boil juice, margarine, 2 tbls chicken base, and 1 lb of crawfish boil seasoning. Add enough water to be about 2 inches below the rim of the pot.

Cover the pot with a lid, and place the pot on your outdoor burner and turn on high to bring the broth to a boil. Plan on boiling the broth for 1-2 hours, at least. For purging your crawfish, see above.

As the broth is simmering, let's make the garlic butter sauce that will be poured over the cooked crawfish boil mix. Put a stick of butter in a pan and bring to a boil. Mix in the minced garlic head and cook the garlic for a minute or two. Turn off the heat and add in cayenne, lemon pepper, paprika, and chicken base. Set garlic butter aside for after crawfish is done.

After the crawfish broth has boiled for an hour or two, it's time to start throwing in your add-ins. Potatoes take the longest time. If you are using the small red potatoes, add an additional 15 minutes of cook time. If you're also cooking with raw sausage - instead of precooked - go ahead and add those in at this time too.

After the 15 minutes of the potatoes cooking, throw in the rest of the crawfish boil ingredients - sausage, crawfish, corn, and any other crawfish boil favorites (see list above for more ideas)! Let the crawfish boil for 10 minutes.

Turn the burner off and let all of the ingredients sit, covered, for 15 minutes.

After the crawfish boil sits, it's time to remove them from the pot and put them in a container to steam for another 15 minutes. If you ordered your crawfish, you can use the rinsed out, and cleaned container they came in. If you have a cooler, that works just fine too. When you remove the crawfish boil ingredients, add a little to the cooler, sprinkle on some Tony Chachere's and Old Bay. Lay down another layer of crawfish boil ingredients, sprinkle on more seasonings. Keep doing this until all your ingredients are in the cooler. Grab your garlic butter, and pour it on top of the crawfish boil, close the cooler lid, and let the mix steam for 15 minutes.

Cover a table with plastic table cloth and/or newspaper, pour the crawfish boil out on the table, and dig in! No need for any silverware or utensils, but you may want a roll of paper towels near by. For how to eat crawfish, see above.