I'm not a big fan of the taste of fish, so it comes to no surprise that I also don't particularly like fishing, but with a house full of men, of course, I spend more time on the water fishing than I'd like to admit. And being the angler I try to be, I've had my fair share of time on the ice as well. Ice fishing is its own category of fishing, but with the right equipment and planning, you too can make the best of an ice fishing adventure.

When it comes to ice fishing with families, think of it as a day camping trip. What would your family bring for a day of camping? Perhaps not a tent, but an ice hut makes for a great warming clubhouse and plenty of snacks and hot chocolate helps to keep spirits high. Here are a few other ways we plan for a day on the ice.
Bring Plenty of Food
Ice fishing is a lot of sitting around staring at a hole in the ice waiting for a bite. Yes, it's a bit more technical than that, but what helps pass the time is snacks and meals. I pack a cooler full of snacks – no need for ice, though, because it's already cold out – and warm up something in a small crockpot for hot meals. We usually bring a grill to heat up water for apple cider and hot chocolate or to grill up some hot dogs and brats.
Being on the ice can get cold, especially if you don't have a heater. Warm food and drinks help keep your body temperature up. Kids love hot drinks – and adults too with a little added rum.
In a crockpot, I like to do meats that don't have a lot of juice that may spill out. Think taco meat for tacos in a bag, grilled chicken for salads, hot dogs, etc. My crockpot has latches that help to lock the lid down so when I pack it in the sled to be pulled behind the snowmobile there's less chance of everything tipping over, spilling, etc. – hence the reason for no juice, as well. A thicker stew or soup could work too – think chili. If you don't have a lid lock for your crockpot, try this rubber band trick.
Prep everything at home to cut down on the amount of trash you take out on the ice and to prevent having to use a cutting board while out. Last time we went out, I made tacos for the family two nights before and doubled the recipe so I could have leftovers on the ice. I combined most of the cold taco toppings to make salsa – beans, corn, cilantro, tomatoes, jalapenos, salt, and pepper.
For condiments, pack to-go packages that you would get from a fast-food restaurant or gas station.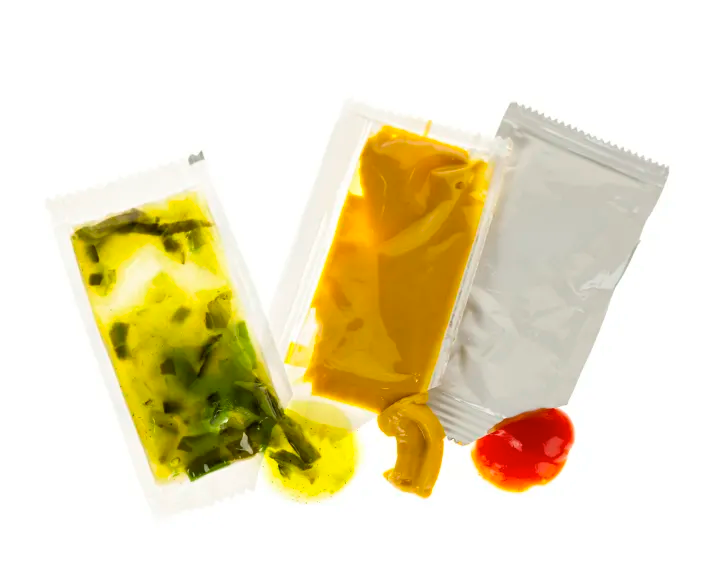 Pack Entertainment
We usually pack a speaker and device to listen to tunes all day, and each person kind of has their own source of entertainment outside of that. I prefer to pack a book that keeps me busy while teaching me something new, like a book on knots (bonus if it's fishing knots). The teens like to attempt to bring electronic devices, but we try to encourage them to bring something that still leaves room for plenty of family bonding time while on the ice. Deck of cards and dice games work, but also remember that you'll be on the ice and around a lot of snow, water, and ice that can easily ruin what you bring out with you. If you were to do dice, it would be best to contain them in something that prevented them from flying to the floor and into an ice hole.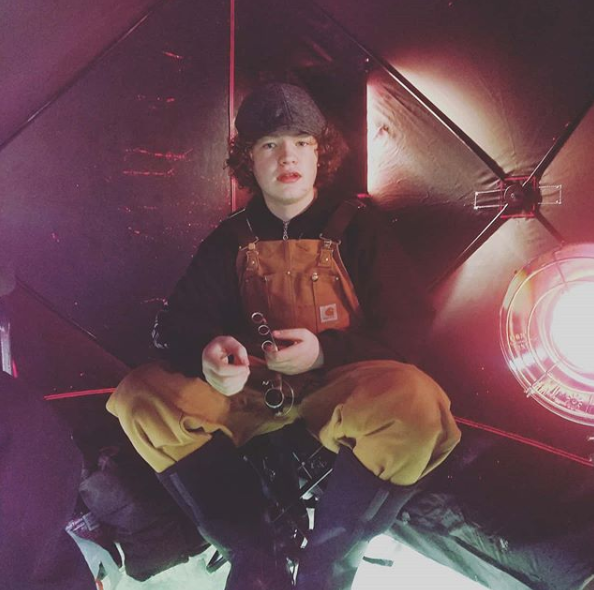 Lawn games work great on the ice! Pack your favorite lawn game or get creative and make up your own ice game – there are great outdoor snow day ideas on Pinterest.
Layers to Stay Warm
It's better to over-prepare when it comes to staying warm and layers help with this. I would usually put on a base layer that is made for cold weather and includes a long sleeve top, leggings, and wool socks. I then add another layer of leggings, before putting on my snow pants. I'll add another long sleeve shirt over my base layer, put on a vest, and then my winter coat. For accessories, I have a winter hat, boba clava, scarf, gloves, sunglasses (the reflection of the sun off the ice/snow is blinding), and sunscreen. Winter boots are a must, but make sure they're waterproof because your shoes will definitely get wet (the good news is that most winter boots are already waterproof). I take advantage of the pockets I have in my vest, winter jacket, and snow pants to organize anything else I bring out on the ice – car keys (place in a zipped pocket), phone, chapstick, fishing license, identification card, etc.
Safety First
After a weekend on the ice with bluebird skies, one of the last things on your mind is safety, but you have to remember all of the things that might happen. You're on a frozen lake, sometimes with 400+ pound sled (or two), in an area with no cellphone signal, in weather conditions that can quickly change. I can probably list a dozen or so things that can go wrong, all of which would ruin that bluebird sky day in a heartbeat.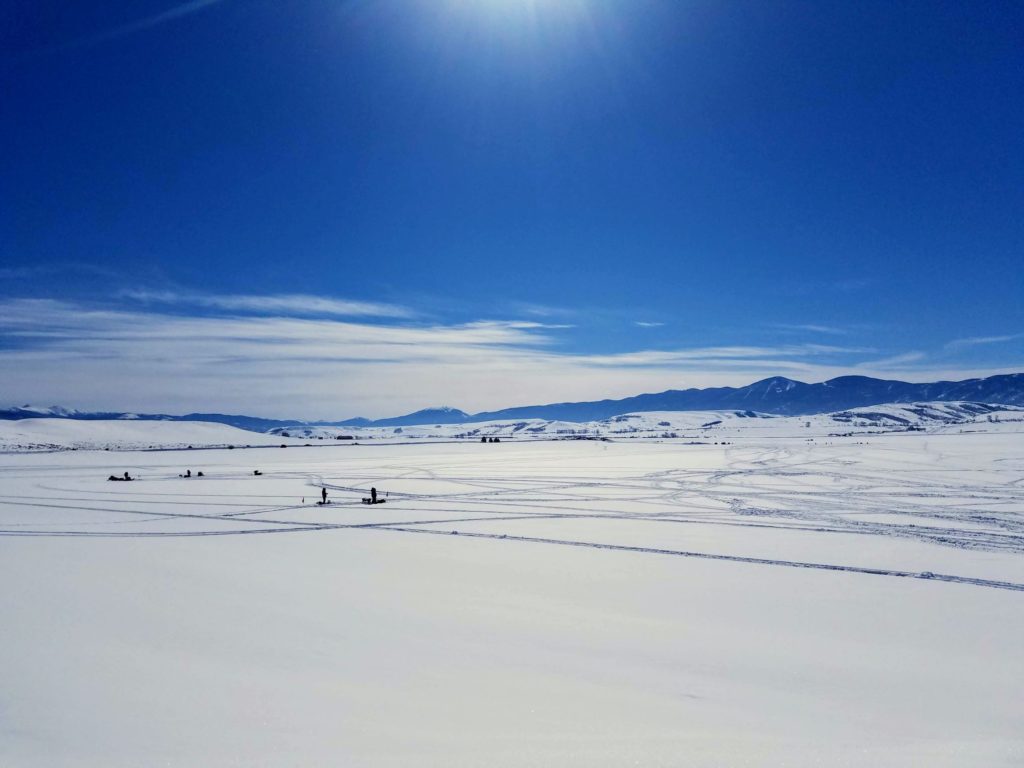 Key safety items while on the ice include:
GPS Device
Ice Escape Grips/Picks
Yaktrax: Ice Walking Cleats
Winter Snow Apparel
Shelter/Tarp
Whistle
Life Jacket
Throw Rope
Hand Warmers
Vehicle Winter Safety Kit
A hut and heater system are not critical, but they definitely help improve the overall experience and keep everyone nice and warm. For safety, I'd definitely recommend having some sort of shelter or tarp for protection from incoming storms, but an entire hut system is not required for a successful fishing adventure.
If you're with kids, teach them about safe ice. 5″ is a commonly recommended ice thickness for humans and snowmobiles. You can ask the local tackle store what the current ice depth is or a fellow fisherman, but the kids always seem interested in seeing for themselves what the depth is. Teaching kids to know when it's safe to go on the ice is critical for their own safety. Drill an ice hole close to shore to verify ice depth before venturing too far out, especially if you haven't checked with anyone about current ice depth. The hole you drill to fish in will also show you ice depth. At the beginning of the year in the Rocky Mountains, we typically see 1′-2′ of ice thickness, but weather and elevation can change that. It's best to check and double-check to ensure you're safe on the ice.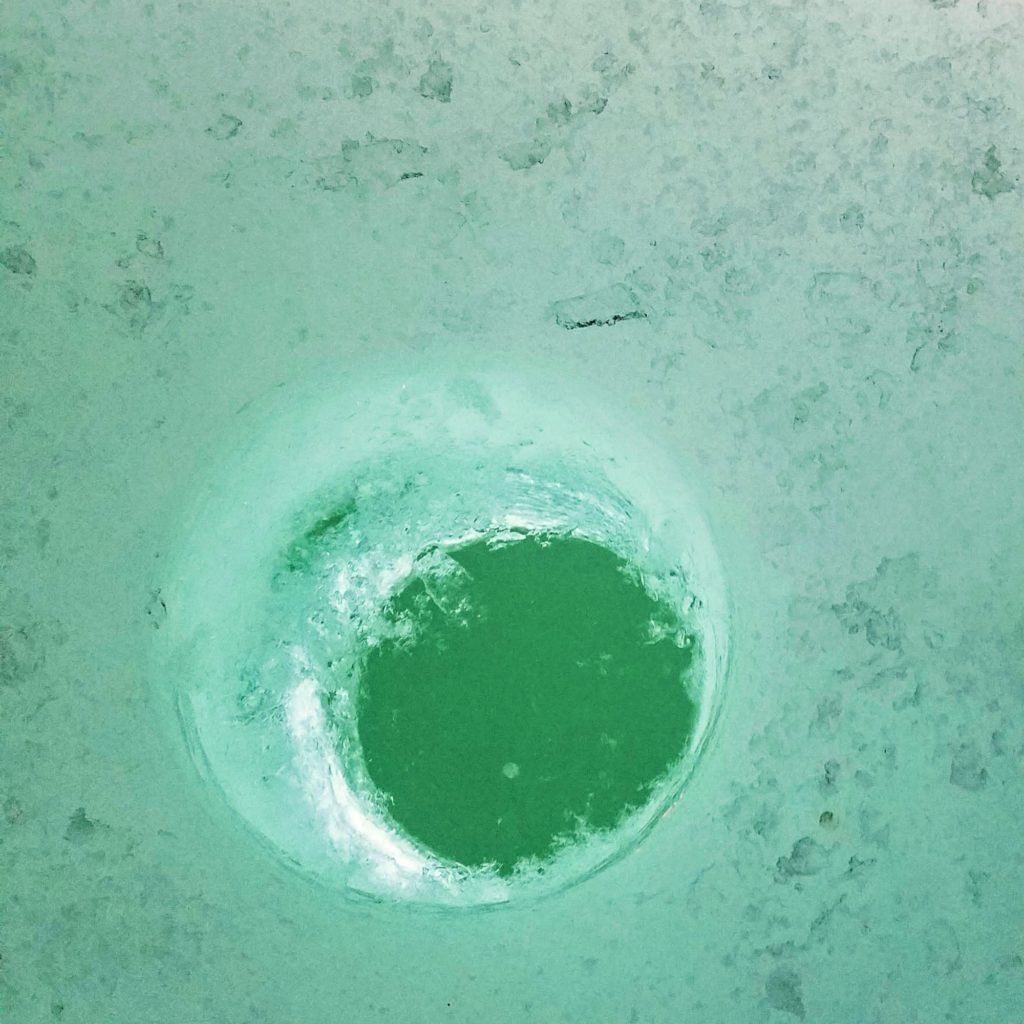 A Personal Story
My husband went out on a clear, early morning fishing adventure without a GPS in hand, without his ice escape grips, and without shelter. He was dressed warm, had his dogs, and was planning on ice fishing in the early morning before any of us had even gotten out of bed. As I got up to get ready for work, the weather was perfectly fine out, but by the time I go out of the shower, a blizzard had hit and I could barely see my neighbors house out the window. At 7am, I got a distraught call from my husband – he was on the ice, couldn't see much further than 10" from the front of this face, and was wandering in circles trying to find the shore. I asked him if he had his GPS to help with locating his position, but he didn't have it. I told him to try to use his phone, but it was sending him in circles too. He was starting to panic and asked for me to call search and rescue. I hung up the phone and called 911; in return, they had him call them so that they could ping his location. The snow was blowing sideways and everything was white. The good news is that he was dressed warm enough, but he didn't have a shelter to protect him while he waited for the storm to pass. As he talked with the sheriff's office, he finally noticed a dark spot which was a sign that he had spotted the shore. He stayed on the phone with law enforcement as we slowly made his way to safety. Upon reaching his truck, he called us to let us know he was safe in his truck – shaken, but safe. The lesson learned was that blizzard-like conditions can come on fast, really fast. These blinding storms can leave you lost and in a very dangerous situation. He was lucky he had cellphone coverage because the lake he was on is known for having spotty coverage. His GPS and/or shelter would have been very handy in this situation.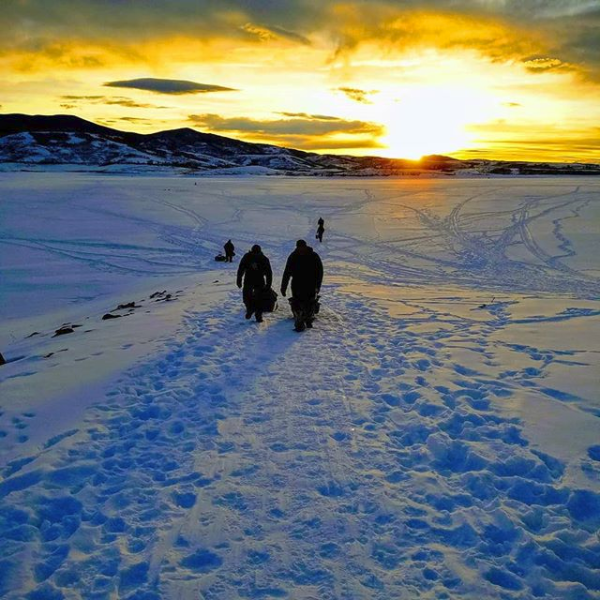 From the guy that is known for a keen sense of direction and the one typically in charge of getting us all out of the woods safely, my husband would empathetically share that it feels quite intimidating to know that a total whiteout can make you second guess everything you thought you knew about a situation. You don't know you need your safety gear until you need it – don't find out the hard way.